Just over a month after Amazon.com Inc. ate Whole Foods, the shakeout in the American grocery aisle keeps getting uglier.
The latest sign of trouble: Private-equity giant Apollo Global Management recently tossed a $50 million lifeline to Fresh Market, the struggling high-end chain it took private only 17 months ago.
It will only get worse from here, analysts say. Under Amazon, Whole Foods has been cutting prices of marquee products including organic kale and avocados — a harbinger of the price wars to come. Among the most vulnerable are small regional chains that were facing fierce competition even before Amazon showed up.
"The amount of pressure the Amazon and Whole Foods deal puts on the grocery sector is going to be very significant, and the full ramifications will only be seen over time," said Antony Karabus, chief executive officer at HRC Retail Advisory, a retail turnaround and performance-improvement consulting firm.
That's because Amazon founder Jeff Bezos has never really cared much about profit margins, while old-school grocery stores live or die by them. Expect Amazon to keep squeezing and squeezing.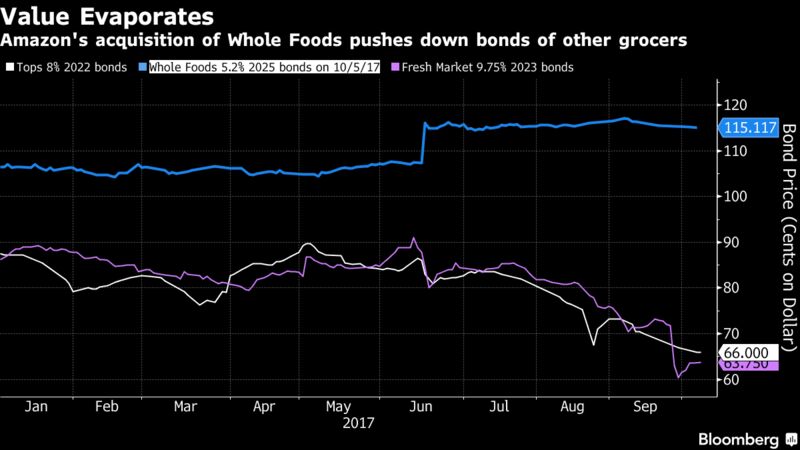 Fresh Market looks like a case study in the troubled economics of the grocery business. When Apollo bought the chain, for about $1.4 billion, the private-equity firm was coming off successes in the industry. Apollo made about $2 billion turning around Sprouts Farmers Market, and before that, made a profit on its stake in Smart & Final Stores Inc., a warehouse grocery chain.
That was then. Nowadays the business confronts the deepest round of food-price deflation in 60 years. Low prices are great for consumers — but bad for grocers. Nationwide, food prices rose in July for the first time in 19 months, according to the U.S. Department of Agriculture, but the increase, of just 0.3 percent, is hardly enough to make up lost ground.
Adding to the pressure, Kroger Co. and Wal-Mart Stores Inc., two of the largest sellers of groceries in the U.S., are trying to keep prices low to fend off German discounters Aldi and Lidl. Kroger said today it's considering the sale of its convenience-store business to capitalize on a merger wave in that field.
Identity Crisis
Fresh Market is particularly exposed to the increased competition because it shares Whole Foods' sweet spot: organic produce and gourmet products.
"They've had an identity crisis, and I think they were hoping Apollo could fix that," Jennifer Bartashus, an analyst at Bloomberg Intelligence, said of Fresh Market.
Apollo declined to comment.
The industry's stress is apparent in the credit markets, where Fresh Market's bonds have been hammered. Apollo sunk roughly $525 million into the company at the time of the buyout. Since then, the chain's $800 million 9.75 percent first-lien bonds have fallen almost 36 cents, to trade at 63.25 cents at 11:03 a.m. on Wednesday. Current prices suggest the company has little equity value.
Meantime, rivals including Tops Friendly Markets and Bi-Lo Holdings, a chain owned by private equity firm Lone Star Global Acquisitions, have fallen hard, too. Tops' 8 percent senior secured notes due 2022 are trading at about 67 cents, while Bi-Lo's 8.625 percent pay-in-kind toggle bonds due 2018 have fallen into deep distressed territory, at about 32 cents, according to Trace, the bond-price reporting system of the Financial Industry Regulatory Authority. A group of Bi-Lo's creditors recently hired legal advisers to gear up for a possible restructuring of the company's almost $1 billion in debt.
Hurricane Damage
If all this weren't enough, Hurricane Irma clobbered Bi-Lo and Fresh Market. More than half of Fresh Market's roughly 180 stores, including 42 in Florida, are in states hit by the storm. A recent research note from Goldman Sachs suggested the damage forced the company to cut back on renovations and may have prompted the Apollo loan.
Apollo is known for trying to safeguard its investments, sometimes at the expense of other debt holders. But its recent loan to Fresh Market is unusual: The $50 million loan, without collateral, is junior to all other Fresh Market debt and pays an effective 6 percent. Retailer Restoration Hardware paid a 9.5 percent coupon in July on a secured loan also provided by Apollo.
That, analysts say, underscores the trouble at Fresh Market.
"The company needs working capital, and Apollo needs to keep it alive to preserve its equity," said Mark Kaufman, a senior analyst in distressed debt at brokerage firm Ramirez & Co.
Source: Bloomberg